This is the recommended process for engaging Training Institutes for training program, when the Approving Agency (MDWS / State / District) wants to conduct a specific training program. It is purely an online process where the Training Institute is identified by the Approving Agency and the work order is generated online. The work order can be printed and processed on file for signature.
The process steps are as follows:
Step 1: The Approving Agency (MDWS / State / District) upload the training requirements by entering the details of the training program that they plan to conduct.
Step 2: The uploaded training requirements will be made available to all the Training Institutes for online submission of their expression of interest.
Step 3: The interested Training Institutes submit Expression of Interest (EoI) online for single or multiple training programs. The Training Institutes must enter the availability of their resource persons along with the dates on which they will be available.
Step 4: The Approving Agency then selects an eligible Training Institute. The Approving Agency selects Training Institute after reviewing the profile of Training Institutes and proposed resource persons. Since the unit rates are standard as per the guidelines of MDWS, the selection will be purely based on the decision of the Approving Agency.
Step 5: A work order in the name of the selected Training Institute will be generated and made available to both the selected Training Institute and the Approving Agency. The Approving Agency can then download the work order, sign and dispatch it to the Training Institute.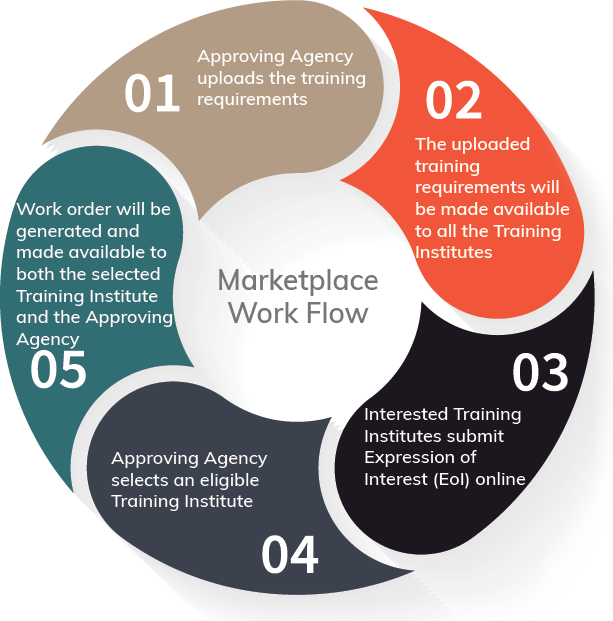 The process given below is followed when district or state authorities directly engage the Training Institute for training program:
Step 1: The Training Institute creates a new training program by:
Entering the program details
Selecting the Master/ Main trainer and other trainers, if required
Selecting the Approving Agency
Uploading the training material
Step 2: The Approving Agency (MDWS/State/District) review the program details and approve the program if there are no recommendations or suggestions.
Step 3: The Master trainer starts and completes the training program. The entire training process is captured in the Mobile App.
Step 4:A trainee with access to the App can join the training program by following the steps mentioned below.
The trainee can register and self-enroll in the training program
The trainee should mark day-wise attendance and complete pre- & post-tests
The trainee can share feedback on the trainer and the training program
The trainee activity is captured in the Mobile App.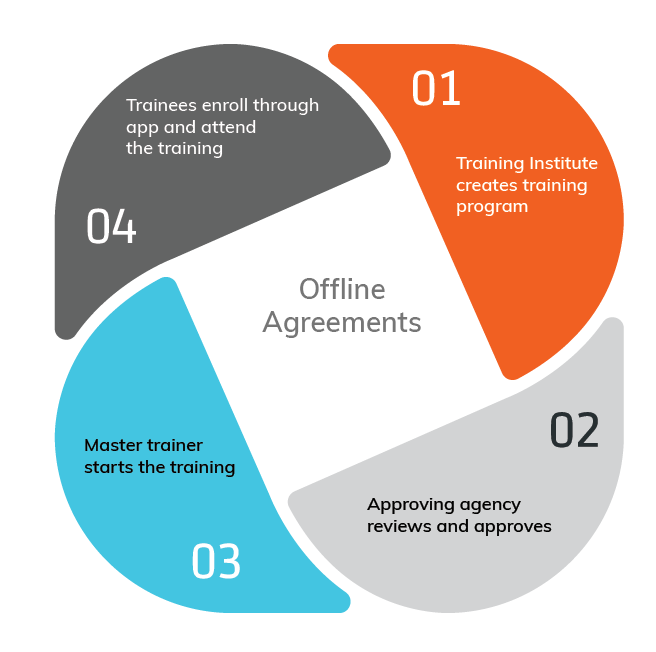 The following process flow diagram explains the rating system. Ratings are automatically calculated for Training Institutes, Master Trainers and Trainees based on the ratings given by the Trainees and the Approving Agency.